All sewer systems need maintained
Based out of East Tennessee M and M Pipe Services is a woman owned family business that specializes in cleaning and CCTV of underground utility. Smoke testing, as-builts, and search and discovery of lost or buried manholes just scratches the surface of our range of available services. Because we are family owned, we know what it means to be treated like family and we would be honored to welcome you to ours.
We also provide re-lining of sanitary sewer pipe lines with CIPP liner from catch basin to catch basin and manhole to manhole, we rehabilitate manholes,  install CIPP Internal Patches to fix defects without having to reline the entire segment and we have the capability to cut protrusions and roots which can cause backups and be costly if flooding occurs in homes due to surcharges.
M&M provides a full spectrum of services covering every aspect of the piping industry.  Including remote/hard to reach locations.
We specialize in inspecting & televising sewer and storm drains for municipalities, cities, towns, and companies – including providing contracting assistance in cleaning and televising for sewer rehabilitation.
We offer free consultations and custom solutions for any situation.
Manhole Rehabilitation
We specialize in the full restoration of sanitary sewer manholes by first stopping all infiltration into the manhole and then patching any structural defect in walls, bench, invert, and chimney. Finally, we Spray a cementitious concrete liner that will after curing have 10,000 PSI structural properties. This creates a fully restored manhole with no digging, no re-engineering, and no headache.
In this before and after we cleaned and rehabbed the invert and bench for improved flow for an otherwise stopped up Manhole.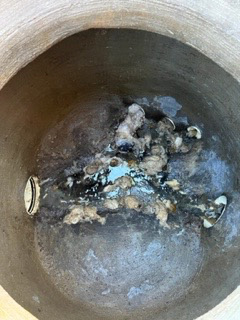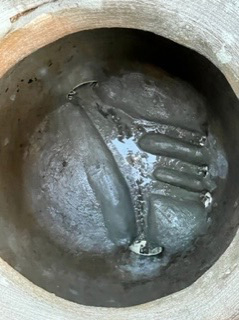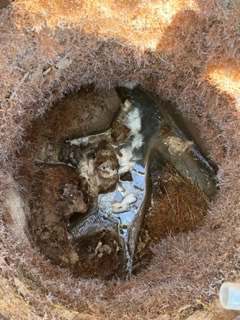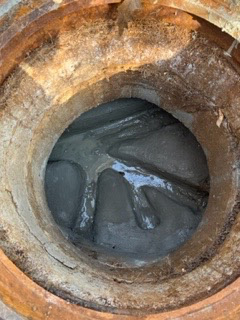 The B/A below is a full rehabilitation of a deteriorating manhole that will now be structurally sound for generations to come.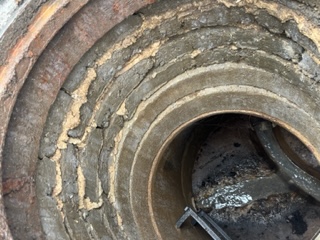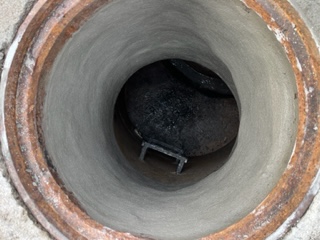 Inflow and Infiltration
Groundwater getting into the city's wastewater system is a huge problem for many municipalities due to the increased treatment cost and the ability of the treatment plant to keep up with the increased flow. Much of this infiltration comes from manholes that have been sitting in low-lying areas soaking in water for many years sometimes up to 5 gallons per minute. During rain events.
We will first start by doing an inspection of the manhole and determining where the water is coming from. Then we will drill and inject water-activated grout, which will create a watertight seal around the manhole from the inside out and will stop in filtration in the manholes, thus saving the city thousands of dollars a month.
We will also patch any cracks or fractures in manhole walls, and around upstream and downstream pipes to create a watertight seal, doing this throughout the city has been proven to save the city hundreds of thousands of dollars per year in treatment costs.
These pictures demonstrate our water activated grout traveling behind the manhole wall and finding sources of infiltration and sealing the entry points to create a water tight manhole.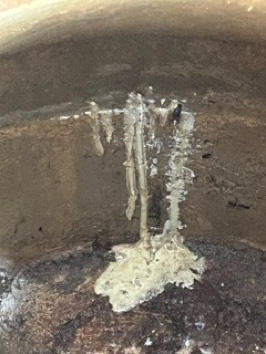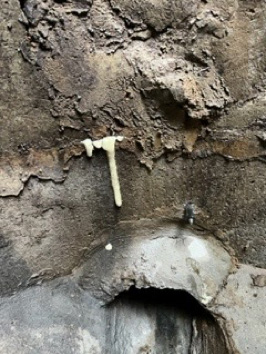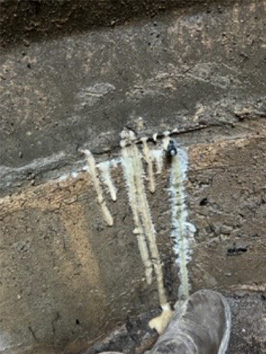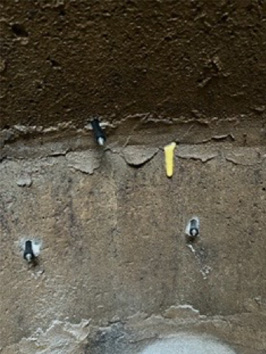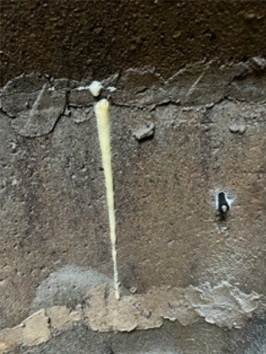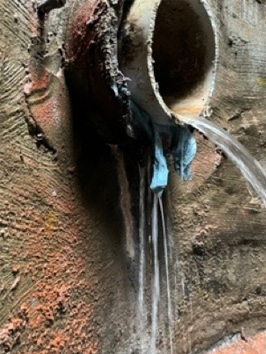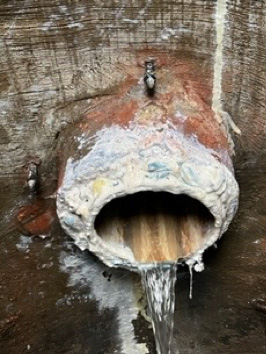 This instance was a pipe stubbed into a manhole without being sealed from the outside allowing ground water to enter the manhole freely. We were able to stop all outside water from getting into the sanitary system.
Investigation and excavating of manholes
We have the ability to track and locate buried and unmarked manholes using metal detectors, sonde locaters, and other equipment. The examples below are of two manholes that were buried over 12 inches deep that we located and excavated to gain access for a CCTV inspection.